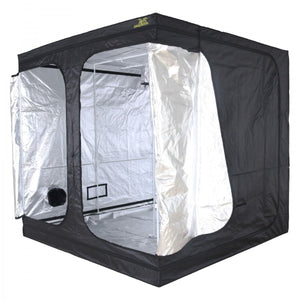 Jungle Room PRO Grow Tent 240 x 240 x 2m Mylar Silver
TAX INCLUDED. FREE NZ
SHIPPING
ORDERS OVER $50 & FREE AUSTRALIA SHIPPING ORDERS OVER $100
PLEASE ALLOW 3 TO 5 DAYS DELIVERY
FEATURES

Jungle Room PRO 18 sizes available from (in cm) 85x50x40 to a HUGE 600x300x230
All the quality of the Elite range but stripped down to the essentials you need
Plastic connectors up to 200x200x200 sizes, metal connectors from
          240x240x200 sizes
Frame: The PRO grow tent has a strong tempered 16mm diameter pole
          up to 200x200x230 sizes and a 19mm, 1mm diameter, tempered high        
          tensile steel for all units ranging from 240x240x230
Silicon pads for the roof supports to stop acoustic vibration, slipping and
          damage
Interesting YouTube Video - click below

White Versus Silver-What Reflects Better?
Become the King of your urban jungle with Jungle Room Indoor Harvest Systems! Maintaining a proper growing environment is crucial for a successful, high-yielding grow. Indoor growing tents provide a convenient way to isolate your growing area so you can maintain proper temperature, humidity, light and odour containment while keeping out dust and insects. Jungle Room by BudBox are heavy duty tents making use of an all-steel frame, well-thought plumbing and duct outlets and a high quality skin that excels at both preventing light leakage as well as ensuring supreme light efficiency.  Easy assembly and access, the large range of sizes allows for multiple room sizes with normal ceilings and even higher ceilings (HC).  Jungle Room tents are the best way to create a self-contained environment for your indoor garden and maximise yields.
Please contact us if you would like to order a different sized grow tent that is not listed. 
NB:- Due to increased shipping costs, tents can no longer be sent Free Shipping to Australia